Brewer Returns to Exclusive Autosport for 2023 USF Pro 2000 Campaign
SportRSV News originally published at SportRSV News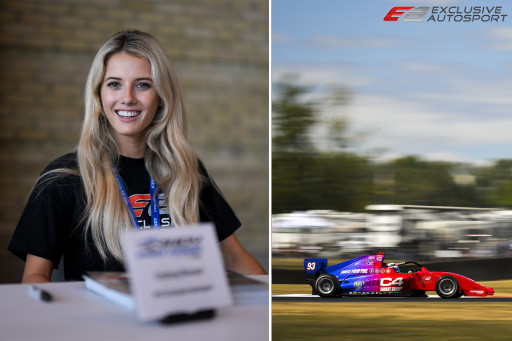 ­­­­­­­­­­­­­­­­­­Young American female racer excited for sophomore season in INDYCAR development program.
Newswire.com
)
Exclusive Autosport is pleased to announce the return of American Lindsay Brewer for the 2023 USF Pro 2000 Presented by Cooper Tires season, which is the top rung of the USF Pro Championships (formerly named the Road to Indy) development ladder, the feeder system into Indy Lights and the NTT INDYCAR SERIES. The 25-year-old Newport Beach, California, resident will pilot the #93 Tatuus IP-22 car for the title-winning team, backed by C4 Smart Energy. Brewer made her entrance into the series last year and showed impressive pace throughout the four events in which she participated. A best finish of eighth on the road course at the Indianapolis Motorsport Speedway in her debut with Exclusive Autosport will set the baseline for Lindsay's continued development in 2023.
"2022 has been an incredible year working with Exclusive Autosport in USF Pro 2000, and I was very happy with my debut, which was a top-10 finish," said Lindsay Brewer. "I'm excited to be racing a full season next year in 2023 with C4 Smart Energy as my title sponsor. I hope to bring more attention to women in the motorsports world, as we all push to work together in a sport where women and men can compete together. I hope 2023 will be a competitive season, as I have a goal of entering INDYCAR and the Indy 500 in the next few years."
"I am excited to welcome Lindsay back for a full season of USF Pro 2000 competition," enthused Michael Duncalfe, Team Principal. "Lindsay made incredible progress throughout the season. We have a great off-season testing program in place for her to continue her development, and we are looking forward to her having a great 2023 season."
"Motorsports is within the top-three most viewed sports in the world, sharing the spotlight with soccer and cricket," added Chris Young, Lindsay's Manager. "Over the past three years of working with Lindsay, we have seen so much progress, and it's exciting to see her back in the seat after placing in the top 10 in her debut race in her rookie year at the Indianapolis Motor Speedway in the USF Pro Championships series. The partnership we have built with C4 Smart Energy will certainly help advance the visibility of women in motorsports as she makes her way to INDYCAR and other open-wheel series around the world. Lindsay's prior success and performance from competing in karting and sports cars has translated quite well into the open-wheel discipline, and we believe her millions of fans will help advance her mission and her craft to help pave the way for women to compete in this sport, which is one of the few that is gender agnostic."
Like a majority of the professional drivers, Brewer began her career in competition karting and has worked diligently over the years (winning a regional Rotax Championship and a Legends National Championship) to position herself to begin her full-time effort. In 2022, she participated in a calculated schedule of USF Pro Championships events to experience all of the unique disciplines of the series, running in a street circuit event (Toronto), on a fast banked oval (World Wide Technology Raceway), and on traditional natural terrain road courses (Mid-Ohio, Road America, and Portland).
Brewer will take part in Exclusive Autosports' extensive off-season testing program for their USF Juniors, USF2000, and USF Pro 2000 teams leading into the 2023 USF Pro Championships season. Drivers with interest in joining or testing with the EA squad are asked to contact the team directly by emailing info@exclusiveauotosport.com.
Exclusive Autosport is pleased to be able to continue its partnership with a great companyCorpay Cross-Border Solutions (https://cross-border.corpay.com/exclusive-autosport/)who specialize in helping companies of all sizes power their international payments, execute plans to manage their currency risk and support their growth around the world.
LINDSAY BREWERSOCIAL MEDIA ACCOUNTS:
Twitter: @LindsayMBrewer
Instagram: @lindsaymariebrewer
###
About Exclusive Autosport:
Exclusive Autosport (EA) is a professional racing team dedicated to the success of its drivers in open-wheel formula car competition in North America. EA operates teams in the USF Pro Championships Presented by Cooper Tires, in the USF Juniors Presented by Cooper Tires, USF2000 Presented by Cooper Tires, and the USF Pro 2000 Presented by Cooper Tires to develop young racers for advancement up their internal ladder system. Exclusive Autosport's drivers have secured numerous championships, race wins, podium finishes and pole positions, as well as Rookie of the Year awards. Exclusive Management Inc., the team's parent company, has enjoyed great success in both open-wheel and sports car racing and has worked with standout drivers. Their mission is to develop drivers and prepare them for the upper echelons of professional motorsports.
Contact Information:
Chris Young
Manager
chris@digitalfrontierholdings.com
3107405354
Press Release Service by
Newswire.com
Original Source:
Brewer Returns to Exclusive Autosport for 2023 USF Pro 2000 Campaign
SportRSV News originally published at SportRSV News