GIMME Detangling Brushes Now Carried in Target
BeautyTrend Magazine originally published at BeautyTrend Magazine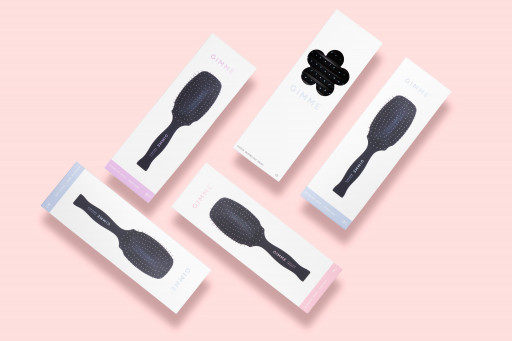 Target will be one of the largest retailers to carry GIMME products, putting the brand front and center to millions of new customers.
SALT LAKE CITY, January 24, 2023 (Newswire.com) - GIMME Beauty, the revolutionary hair solutions company disrupting the beauty industry, announced today that in addition to its cult-favorite hair ties, which are available at Target nationwide, its Detangling Brushes will be available at Target's online shop, starting February 2023. They aim to gain retail distribution across major retailers for these popular brushes later this year.
The GIMME Detangling Brush is designed with a customized bristle technology that gently glides through differing hair types without pulling or tugging, reducing damage and making detangling a breeze. The brush is available in three varieties for fine, medium, and thick hair types.
"We are thrilled to expand our product menu at Target to make our innovative detangling brushes more accessible to even more customers," said Jeff Durham, CEO of GIMME Beauty. "Brushes by hair type are lacking in the market, and we are excited to see the positive impact it will have on people's unique hair and overall hair care routine."
The GIMME Detangling Brush is one of the latest additions to the GIMME Beauty product line, which also includes a variety of hair care products and supplements designed to meet the needs of all hair types and promote healthy hair.
Its Tri-blend Bristles are designed with nylon with varying flexibility by hair type. They feature anti-static, anti-frizz properties and are gentle on the hair and scalp to make detangling simple and even tear-free for kids. The bristles are heat resistant, making them perfect for use with hot styling tools such as straighteners and curling irons. The ergonomic velvet grip handle is designed to fit comfortably in one's hand, reducing hand fatigue and making it easy to find a firm grip for better control while detangling.
GIMME Beauty's commitment to providing high-quality, innovative hair solutions has made them a favorite among beauty influencers, hair stylists, and customers alike.
"At GIMME Beauty, we believe women shouldn't have to put up with one-size-fits-all hair products," said Durham. "We are dedicated to creating products for your unique hair type with a rapidly expanding menu accessible at most major retailers near you."
The GIMME Detangling Brush will be available at Target's online shop starting Feb. 5, 2023, and can also be purchased online at gimmebeauty.com.
About GIMME Beauty
GIMME Beauty's vision is to design innovative hair solutions that disrupt the status quo of the health and beauty hair care category. The company's products rank among the industry's fastest-growth items, according to Nielsen Market Data. Since it launched in 2006, GIMME has become a national brand available at more than 20,000 stores across the United States. Follow GIMME on Instagram or Facebook to learn about its latest collections. To learn more about GIMME Beauty, visit gimmebeauty.com.
Contact Information:
Madeleine Moench
madeleine@newswire.com
Original Source:
GIMME Detangling Brushes Now Carried in Target
BeautyTrend Magazine originally published at BeautyTrend Magazine