XXIO Announces Lower Price on Ultralightweight XXIO 12 Woods and Irons
SportDayue News originally published at SportDayue News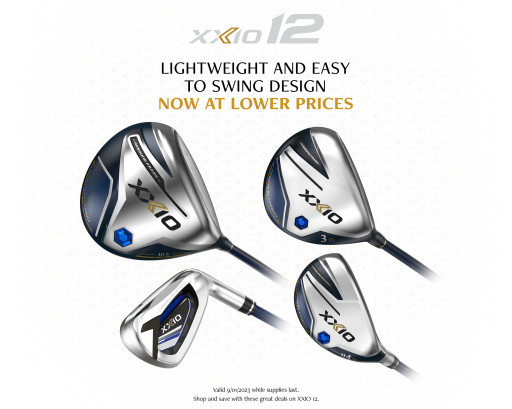 Optimize your moderate swing speed and enjoy easier distance, easier accuracy, and easier golf with XXIO 12.
HUNTINGTON BEACH, Calif., September 1, 2023 (Newswire.com) - XXIO®, a global leader in premium lightweight golf equipment, has announced their XXIO 12 line of clubs and premium package sets will now be available at lower prices, available online while supplies last or at any authorized XXIO dealer location.
Designed for the moderate swing speed golfer, XXIO 12 Woods and Irons are ultralightweight, easy-to-swing clubs that offer specialized technologies to amplify performance, making it easy for golfers to add distance off the tee, improve control, and strike it pure without the extra effort.
One of the innovative technologies featured across the XXIO 12 Woods is ActivWing, which helps golfers square up the face angle at impact resulting in improved contact and increased ball speed for maximum distance. XXIO 12 Irons feature their thinnest Titanium Iron faces ever, allowing the entire face to flex more extensively, while Rebound Frame transfers more energy into the ball to reach unprecedented levels.
"If you don't have the speed and distance you had 10 years ago and you want that back, here it is," said Ryan Polanco, General Manager at XXIO. "These clubs are lighter, faster, and those who choose to play XXIO 12 will no doubt see and feel the performance benefits of these clubs, now at a lower price."
To demo the XXIO 12 Woods and Irons, visit us.dunlopsports.com/stores to find the nearest XXIO dealer location near you. To learn more about the XXIO 12 product, visit us.dunlopsports.com/xxio
Retail Information and Pricing:
Pricing: Pricing is valid only on XXIO 12 products.
Driver: $499.99
Fairway Wood: $299.99
Hybrid: $199.99
5-Piece Graphite Iron Set: $749.95
Complete Package Set: $2,499.99
Single Individual Iron (graphite): $149.99
Contact Information:
Noelle Zavaleta
Marketing Communications Director
noellezavaleta@srixon.com
Original Source:
XXIO Announces Lower Price on Ultralightweight XXIO 12 Woods and Irons
The post XXIO Announces Lower Price on Ultralightweight XXIO 12 Woods and Irons first appeared on Dayue News.
SportDayue News originally published at SportDayue News