Simply Marinas Brokers the Sale of Eddy Creek Marina and RV Park, KY
SportDayue News originally published at SportDayue News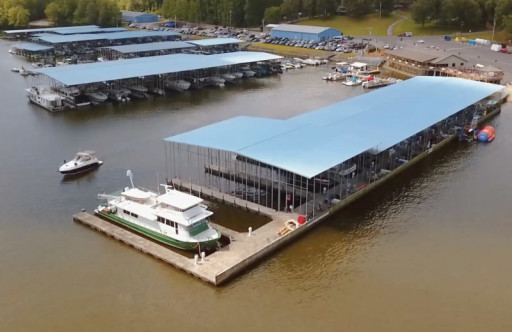 Simply Marinas adds Eddy Creek Marina and RV Park to its continued strong national marina resort sales.
CORAL GABLES, Fla., May 3, 2023 (Newswire.com) - Simply Marinas adds Eddy Creek Marina and RV Park to its marina resort sales.
The company's success story in selling marinas/resorts was featured in the March Issue of Trade Only Magazine: "Simply Marinas: Maximizing Value and Returns for Marina Resorts and RV Campground Sales." See the enclosed article.
Simply Marinas represented both parties and brokered the sale as a confidential offering relying on the Simply Marinas Network of pre-qualified buyers. The company's confidentiality process was featured in the April issue of Marina Dock Age Magazine. See the enclosed article.
The offering is an established full-service marina resort situated on the highly desirable Lake Barkley. It includes 231 wet slips, dry storage, and an RV campground, gas dock, ships store, boat rentals, cabin and motel lodging, and a restaurant. This first-class acquisition opportunity sits on 102 acres under a long-term ground lease from the U.S. Army Corps of Engineers. The marina and RV Park have room for expansion, presenting a tremendous upside to the new owner. The acquisition includes a residence on site. The resort is rich with amenities and includes wireless Internet, ship store, private pool, complimentary pump-out services, private beach and picnic, playground, boat rentals and fishing.
Simply Marinas is seeing a strong second quarter-2023 and continued compelling interest in marina resort acquisitions. The company's transactions span the United States and include marinas of varying sizes with over $350mm in marina sales over recent months, alone.
Some of the team's other featured recent transactions include:
Four Corners Marina and RV Park, TN; Cedar Creek Marina and Resort, TN; Chula Vista Marina, SD; Channel Club MarinaNJ; Garrison Bight Marina, FL Keys; Coconut Cay Marina and Resort, Marathon Key, FL; Miami River Marine Site, FL; SE Marina and Resort Portfolio; Roosevelt Marina, AZ; Holden Beach Marina, NC; Key Colony Marina, Marathon Key, FL; Beavers Bend Marina, OK; Yacht Haven Marina, FL Keys; North Point Yacht Club, TX; Port Charles Harbor, MS; Shady Shore Campground, NY; Fair Point Marina, NY; Nettles Island Marina, FL; Smugglers Cove Marina, KY; Leatherwood Marina, TN; The Marinas at Little Harbor, FL: Antigua Marina and Village Marina; Starved Rock Marina, IL; Flag Harbor Marine Service, MD; Bahia Marina, TX; The Cove Marina, MD; Kenlake Marina, KY; Dry Storage Marina, FL; and Roosevelt Marina RV Park, AR.
For more information on the company's track record, offerings and case studies, visit www.simplymarinas.com. We invite you to download The Simply Marinas Brochure.
Contact Information:
Michelle Ash
Owner
ash1@simplymarinas.com
305-439-9581
George Ash
Simply Marinas National Director
ash@simplymarinas.com
305-390-0397
Related Files
For Marina Sales, Confidentiality is KingFeaturing The Simply Marinas Confidentiality Process.pdf
Trade Only ArticleSimply Marinas Maximizing Returns for Marina Resort Sellers.pdf
Original Source:
Simply Marinas Brokers the Sale of Eddy Creek Marina and RV Park, KY
The post Simply Marinas Brokers the Sale of Eddy Creek Marina and RV Park, KY first appeared on Dayue News.
SportDayue News originally published at SportDayue News