Jet Dock to Attend South Florida Boat Show
SportDayue News originally published at SportDayue News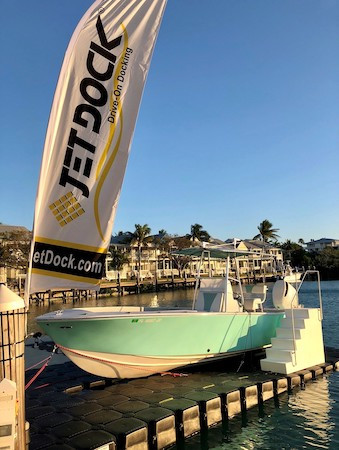 The Exhibitor Will Provide Hands-On Demonstrations of Modular Docking Technology
CLEVELAND, May 9, 2023 (Newswire.com) - Jet Dock Systems, a world leader specializing in the design and manufacture of modular drive-on boat docks, will attend and exhibit at the South Florida (SoFlo) Boat Show from May 19-21, 2023.
At this annual exhibition, Jet Dock will be on-hand to demonstrate our patented floating boat lifts. Along with providing show attendees with a firsthand look at our innovative products, Jet Dock will present other advancements in the field of drive-on docking technology, including kayak docks, PWC lifts, and floating walkway platforms.
The SoFloBoat Show is a lifestyle event that combines the latest in boating products and technology with a fun, casual atmosphere for boating enthusiasts, beach lovers, fishermen, and more to enjoy three days in a marine lover's paradise. Over 100 boats are available at the Sea Trial Docks, where attendees will have the unique opportunity to test pilot their next potential boat around the Key.
The SoFlo Boat Show has something for everyone, with activities for the whole family located in the AquaZone, a 40,000-gallon demonstration pool that will give visitors an up-close experience for thrillseekers and water sports enthusiasts alike. You can also reel in your next catch at the Fishing Zone, an ideal destination for anglers of all stripes, complete with seminars and the latest fishing gear. The SoFlo Boat Show will take place at Miami Marine Stadium, located at 3501 Rickenbacker Causeway in Miami, Florida.
Jet Dock is the original inventor of drive-on docking systems and specializes in floating, modular dry-docking solutions. Their current product lines include docking options for kayaks, jet ski docks, mid-sized boats, seaplanes, 50-foot performance boats, and more.
For product information and media inquiries, please contact our knowledgeable team of advisors at salesteam@jetdock.com or call 1-800-JETDOCK.
Contact Information:
Byron Jacobs
salesteam@jetdock.com
1-800-JETDOCK
Original Source:
Jet Dock to Attend South Florida Boat Show
The post Jet Dock to Attend South Florida Boat Show first appeared on Dayue News.
SportDayue News originally published at SportDayue News