51GT3.com Becomes Official Distributor for SilverRocket Racing Porsche Performance Products
SportDayue News originally published at SportDayue News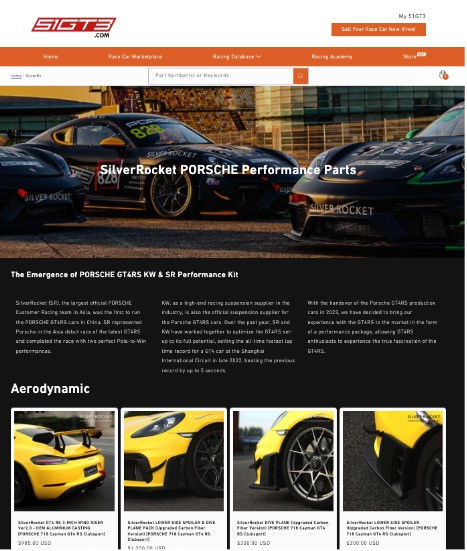 No.1 motorsport portal in Asia Pacific Expands Product Offering with Leading Porsche Racing Brand
SEPANG, Malaysia, July 18, 2023 (Newswire.com) - 51GT3.com, the No.1 motorsport portal in Asia Pacific, is delighted to announce its new partnership with SilverRocket Racing as the official distributor of their Porsche Performance products. This collaboration further solidifies 51GT3.com's commitment to providing racers with access to reputable brands and high-quality products.
With the recent launch of the 51GT3 online store, 51GT3 aims to support renowned brands in expanding their reach within the racing community. SilverRocket Racing, the largest Porsche Official Customer Racing team in Asia with an impressive track record of podium wins across various Porsche Racing events, has developed an extensive range of performance products for the Porsche RS streetcars and race cars. These meticulously engineered parts are designed to enhance the performance and comfort of the vehicle both on and off the track.
SilverRocket Racing's performance products have undergone rigorous testing by professional racers, consistently demonstrating remarkable performance enhancements. "We are thrilled to establish this partnership with SilverRocket Racing," said Kevin Jiang, VP of Marketing at 51GT3.com. "Their commitment to excellence and their proven track record in producing top-notch racing parts align perfectly with our mission to offer our users innovative, high-quality, and cost-effective products."
Through this collaboration, 51GT3.com will provide an extensive selection of SilverRocket Racing performance products tailored specifically for the Porsche 718 Cayman GT4 RS, with more new product offerings in the pipeline. These products encompass a range of components from aerodynamics to lightweight parts, all designed to optimize performance and unleash the full potential of the vehicle.
"Our partnership with 51GT3.com opens up new opportunities to connect with a broader audience of racing enthusiasts," said WJ Liang, Team manager at SilverRocket Racing. "We are excited to work together to bring our cutting-edge performance kits to race car owners across the globe, enabling them to experience unparalleled performance gains and push their limits on the track."
By combining 51GT3.com's extensive reach within the racing community and SilverRocket Racing's expertise in Porsche performance enhancements, the partnership aims to deliver exceptional value to customers seeking top-quality racing parts.
To explore the range of SilverRocket Racing Porsche Performance products available at 51GT3.com, please visit https://store.51gt3.com/collections/silverrocket-performance-kit.
About 51GT3.com:
51GT3.com is the No.1 motorsport portal in the Asia Pacific for race car trading and motorsport database. With a passion for motorsport and a commitment to excellence, 51GT3.com serves as the go-to destination for race car enthusiasts, professionals, and teams in the region.
About SilverRocket Racing:
SilverRocket Racing is the largest Porsche Official Customer Racing team in Asia, known for its outstanding performance and numerous podium wins across various Porsche Racing events. To bring its extensive Porsche racing experience to Porsche lovers, SilverRocket Racing develops performance products designed to maximize the potential of Porsche GT&RS models.
Contact Information:
Kevin Jiang
VP Marketing
kevin.j@51gt3.com
+86 15601850231
Original Source:
51GT3.com Becomes Official Distributor for SilverRocket Racing Porsche Performance Products
The post 51GT3.com Becomes Official Distributor for SilverRocket Racing Porsche Performance Products first appeared on Dayue News.
SportDayue News originally published at SportDayue News